Eeyore from
Just Another Mommy Blog
gave me this: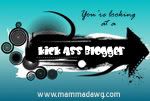 I'm so excited about this that I don't even know what to say! It's taken me a full day to get this number up on my blog in a post and yet I'm speechless.
Choose 5 other bloggers that you feel are "Kick Ass Bloggers"
Let them know that they have received an award
Link back to both the person who awarded you and also http://www.mammadawg.com/
Visit the Kick Ass Blogger Club HQ , to get codes click here and it will take you to KABC HQ, sign Mr. Linky then pass it on!
So I have to pick 5 others to share the love:
3. Another Piece of the Puzzle
Congrats to you all!